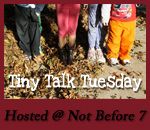 Selena upon hearing that Papa's van broke down informed him, that it is time for him to throw it away and buy a new car.
Out of the clear blue one day Selena informed me that she needs a wedding dress. I asked her why she thought she needed one, and she told me so that she could get a wedding ring like mine.
When I was telling Selena that we would be playing some family games one evening, she informed me, no we won't because Papa doesn't play games.
I am linking this at Not Before 7.