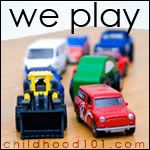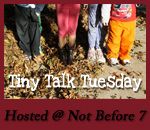 I love the weekends, when Papa is able to enjoy Selena time. I love to just sit back and watch the two of them bond, and interact with each other. Selena is truly one lucky girl to have a Papa who takes so much time with her.
This weekend was lets build a tower using Selena's mega blocks. they built several different ones that all came crashing down, ending with endless laughs. Papa finally said lets see if we can build a tower using every single block you have.
Selena had so much fun watching their tower getting taller and taller. Papa would tell her what block he wanted next and she would be quick to fulfill his request.
She was getting so amazed that their tower wasn't even looking like it was going to fall. As they got down to the last blocks, Papa just let Selena pick the ones she thought should go next.
Their finished tower. Selena did not want to take it down, so they left it up for a good 15 minutes or so. We then decided we better take it down before Selena knocked it over. She wasn't real happy but Papa promised to build another one with her at another time.
As many of you know who follow my blog Selena has been fighting a bad cold. Tonight as we heard the weather forecast, they said we could get snow over the next few days. As we were getting Selena ready for bed, she reminded me that it might snow. I said, "Yes, but it is too bad you are sick." She promised me that if it snows she will no longer be sick. I asked her, "Well what if it doesn't snow will you still not be sick?" She said, "We will just have to wait and see, but if it snows I won't be sick anymore, the snow will make me all better."
Selena's birth story in her words, "The stork flew me clear up to the moon. Then he dropped me and I broke. Grandpa fixed me with tape. So now I am Selena. The End."
I am linking this up at Childhood 101 and Not Before 7.