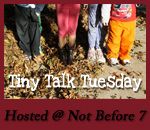 On Saturday night as the rains began to come down heavy, we heard a funny noise coming from Selena's bedroom. Upon investigation Selena informed us she was going to raise the sun.
This morning when we dropped Papa off at work, Selena's eyes filled with tears as she said, "I miss Papa, why does he have to live at work? We will go pick him up for a visit won't we?"
I am linking up at Not Before 7.