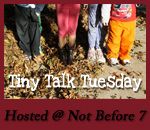 On Sunday we had a whole day full of nonstop imaginary play. We used no toys but talked, imagined, and just had fun.
Selena happened to look towards the window to discover a little spider hanging on a web. She went over for a closer look then said, "Sorry for bugging you spider!"
Selena came up to me and I wasn't quite catching what she was saying. I said, "I am not understanding you." Selena informed me, "You are understanding me."
Selena has a hypothesis, "Grandma, you get on the keyboard and click things onto the computer."  3 (that is Selena's 3 that she clicked showing me how I click on the computer).
We ran into one of her friends from dance class at a store. Upon leaving I said "We will see you on Monday in dance." Selena looked up and said, "Yes, When we wash the dog." That is one of the dance moves if you're wondering.
Grandpa and Selena having a conversation:
Grandpa, "Do you like the Cat in the Hat?"
Selena, "Yes!"
Grandpa, "Why?"
Selena, "Yes, I like Cat in the Hat?"
Grandpa, "But tell me why you like Cat in the Hat."
Selena, "Why?"
Grandpa, "No, tell me why."
Selena, "Why?"