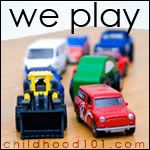 I am not the only one who teaches Selena. Papa gets in on the fun as well. Many evenings he is found working with Selena with her doodle pads, reading library books with her, listening to her make up stories for him, counting with her, and just fun play.
Another great present that Selena received from our friends were three puzzles. One is of the United States, which we haven't pulled out just yet. These two though, Selena has had so much fun with. Papa got in on the fun as well.
Selena does better on the one with the small children shapes then she does with the butterfly puzzle. These are Lauri puzzles, should you like to try to find them. We have depended on Lauri puzzles for all of our early learning puzzles. I love both of these as they build comparison skills. While each piece is different there are certain similarities that make the child really have to think and compare shapes. Sometimes on the people they will have the right arm in the air or the right leg stretched out, while another piece will be just the opposite. Selena does very well at figuring out which piece goes where.
Then there is always time for fun play time!
I enjoy the fact that Papa takes so much time with Selena, and that they enjoy learning and play together. I know that Selena loves it as well, and I know she really benefits from having a Papa who desires to take that precious time with her.
Child's play is one of the best learning tools we have, play along and learn at Childhood 101.