I was excited to get the opportunity to review
Touch Math Curriculum,
Since it is a multi-sensory math curriculum I knew that it would be perfect to try with Selena. We were struggling in our math as I tried to teach from one perspective of the touch points to show Selena the value of the numbers instead of just seeing them like letters (numbers) written on the page. She just could not understand the concept very well, and was making a lot of messes on her daily work by placing dots all over the page. With using this curriculum she has now learned to keep the touch points on the numbers and her school work is neat and clean. We received the complete
1st grade Touch Math
download which includes everything you will need for a year of math. There is curriculum for
PreK
,
Kindergarten
,
First grade
, and
Second grade
.
Touch Math is designed to work with any child, no matter what their learning style or level is. Since it allows the child to utilize their senses through seeing, saying, hearing, as well as hands on activities that will make math fun for any type of learner or ability. They recommend using this curriculum with your child 4 to 5 days per week for 2 to 2 1/2 times their age, so with Selena we did math 4 days a week for 15 minutes. By using touch points the child is able to comprehend that numbers have a true value or quantity.
How did we use it:
As I went through the lesson plans which are so nicely laid out and they all just blend together to teach the next concept, I realized that for Selena the first grade math was going to be way too easy for her. She had already mastered all the concepts in this level, (I must remind my followers that Selena is very advanced academically, and this math curriculum drilled it home for me that she is more advanced in math then I was giving her credit for.) We were still going to get a lot out of this curriculum though besides just learning touch points. I set out to do a review of the units, have fun using the hands on activities, and allowing Selena the opportunity to build her own confidence in her own math abilities.
Selena had no problem doing 2 to 3 worksheets that I selected and printed off from the curriculum in addition to her regular math curriculum. She was very excited everyday to move on to one of the hands on modules that I set up for fun math time on the floor.
We have saved all these hands on activities stored in a nice box and Selena enjoys pulling them out as she desires. She easily sets them up and works on them for sometimes hours at a time.
We also received a few of their manipulates, which are great fun, but are not necessarily needed to teach this math curriculum. I allowed Selena to pick out her favorite manipulate from those we received to share on our review. She loves the Touch Math Tutor so much that we installed it on her own lap top, which provides her with math fun throughout the day.

What did we like:
I really liked the feel of the curriculum, and how easy it is to teach. The hands on modules within the curriculum are simple to make from things within the home which also makes for little prep time. The lesson are presented in a very simple but straight forward making them just flow from one concept to the next. The worksheets do not contain an overwhelming amount of work for the child, and since this is a pdf file, they can be printed off and used multiple times for those who need more practice. I also appreciated the fact that the material is at grade level for any 1st grader.

What we did not like:
The only draw back I found with this curriculum it the fact that it is a download pdf file. I would have preferred to have at least the teacher's manual in book form, since many times I needed to look something up in a lesson to have to leave Selena to run to my computer. With the amount of material found in this curriculum, it would be a bit to print it off. This is where a good laptop would come in handy.

What we got: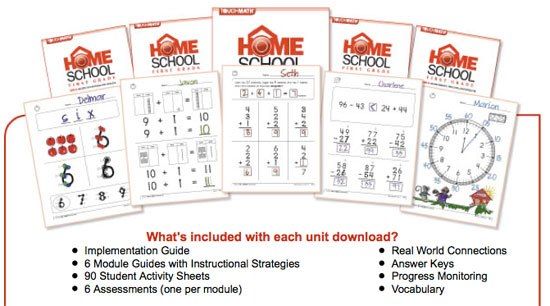 All for units of
1st grade Touch Math
Each unit costs $59.95 each, or you can buy all 4 units for $199.95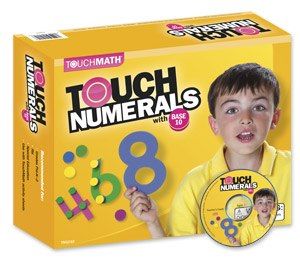 Touch Math Touch Numerals
which cost $99.00. These are real nice foam numbers with all the dots which are great for working on touch point placement as well as teaching many other concepts. They do come with plastic holders for the dots, which can be multi used for grouping.
Touch Math 1st grade tutor
which costs $99.00. This is a very fun computer game that reinforces the lessons in the curriculum.
Twelve boxes of
flip cards
which cost $19.00 per box. The flip cards are designed to be used with the lessons. Each unit contains 3 boxes of flip cards that build upon each concept within the lesson.
I highly recommend the Touch Math to anyone looking for a very comprehensive math curriculum.

I received a free copy of this product through the Schoolhouse Review Crew in exchange for my honest review. I was not required to write a positive review. No other compensation was received.