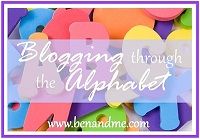 Here we are participating for our first time Blogging Through the Alphabet with Marcy from Ben and Me and many other bloggers who have so much fun with this creative approach to blogging. As I thought about my first post, I kept reflecting on how much Selena just adores her Papa. She imitates him in so many things, as well as never straying far from his side when they are together.
There is something about the relationship between a girl and her father, I remember adoring my father, I thought there was no man who could ever compare to him. As I watch Selena and Papa together I am reminded of those days for myself.
I love capturing these moments in Selena's life, and I know someday as she reflects back she will always remember that Papa adores her as much as she always adored him.
Selena making sure Papa knew his lines and giving him a quick "Great Job Papa!" during the Easter Program.
As you can see, truly for as much as Selena adores her Papa, he adores her right back.
Come on over to Ben and Me and join in on the fun of Blogging through the Alphabet.