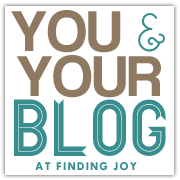 I found this new meme at Homegrown Learners, the idea came from Finding Joy, the idea is to take a picture of the things you are passionate about. Of course you know I am passionate about many things, but to take pictures of all of that would be a never ending job. Since we bloggers are all passionate about our blogs, the idea is to take a picture of you and your blog. Now how could I resist having Selena take a few pictures of me with the one thing that I do everyday. Is that passion or what?
When I started my blog I had no direction, then suddenly I was introduced to an entire world of blogging mom's, homeschoolers, and friends. I have had those times when blogging has seemed more like a job then the joy that I want out of it. It is at those times I have to step away or just rethink about what I am blogging about. This brings me right to a post I had scheduled for later in the week, but have chose to share it with this.
Today on November 9, 2011 I am so thankful for this little face, after all she is the inspiration for my blog.
I am sure my readers have noticed that the content on my blog has been changing here lately, why? See that precious picture of my dearest Selena, well as her reading ability has advanced, and as she approaches a new time in her life, she is becoming more aware of what I am blogging. She sits at my side for the most part and reads everything I type.
Of late she has asked me such questions as:
Do you have to write that?
Do you have to post that picture?
Will you write about this?
Will you take pictures of this and post them?
You see my blog is becoming a collaborate piece of work between a granddaughter and her grandmother. She doesn't want certain things wrote about, or certain pictures shared. Out of respect for her I have had to put a lot of thought into my blog. I want Selena to know that I respect her the way that I want her to respect me.
While I truly desire my blog to be about our adventures in homeschooling as much as I desire to support, and encourage others who are homeschooling, I am taking more time to consider what I post. Will you still get updates on what we are doing, of course you will, but they will be Selena approved. Will you still get to see pictures of Selena as we go through this process, of course you will, but they will be Selena approved.
On the days that Selena doesn't want information about her posted you can expect to see more about the life of her grandmother. I will share tips about saving time and money or things that have been successful for me. I will also share my feelings, desires, as well as give encouragement. I am not sure how this will change the feel of my blog, but I believe from the day that I started blogging about our homeschool adventures I knew this day would come when Selena would be a larger part of my blog.
Winter will be difficult at times, especially since I am not much of a winter person, but we do have the holidays upon us which I will be sharing with all of you. I am making a lot of plans for all the new possibilities since we now have so much more room and property to work with come Spring and Summer.
I just ask that you hang in there with us while we move from this format which use to be Grandma driven to a format of working as a team, a new Granddaughter and Grandmother driven blog. It is going to be a ride, but one that I am embracing and truly looking forward to. I know it will be a lot of fun for both of us, and hope that it will be everything that I hope it to be for you my followers.
I am truly thankful for this new adventure with Selena as my co-author, so to speak. For this time to arrive, is such a blessing, as it truly is a reflection of the beautiful, bright, and sensitive little girl that I love ever so dearly.