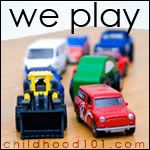 It is so obvious that Selena loves her doll houses and now loves her Barbie sized Disney Princess dolls. I think it is easy to say her horses are right up there too. We catch her playing with her doll houses a lot, or packing her horses around the house, or playing imaginary games with her dolls. I do have to say though that on this particular day Selena cracked me up when she took over my dining room table with all of these things.
She played for the longest time making up stories and conversations between her dolls. I always take so much pleasure in listening to her play like this. I always wanted a little girl who loves to play with dolls and doll houses. Selena's mom never did like to play with any of these things, so I am thrilled to get to play this out through Selena. There was only one problem that I could see with this picture, can you guess what it is?
Her doll is taller then the house. We talked about maybe Selena would like a larger doll house that would fit her new dolls. Selena informed me that she has a big house. This conversation kept going on for a while until finally Selena realized what I was talking about and agreed that she indeed does need a big doll house.
I am linking this at Childhood 101.
Update on my friend's little one with the Batten Disease. She is going into the final days. The family though it is hard continues to lean upon their faith and they know that soon she will go home where she can be that little girl that she should be. Thank you for your continuous prayers.