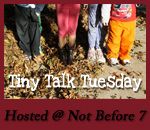 Yesterday we were playing silly games with Selena. Nothing much in particular, just letting her lead the way as her imagination was at work.
She looked up and said, "I am going to be a hippo."
Papa and I sat their and watched, waiting for her to be a hippo.
She looked at me and asked, "Are you listening?"
I guess I was suppose to tell her it was ok to be a hippo or something.
A bit later our game went to Simon says. Selena is trying to understand the concept of this game, but hasn't quite figured it out yet. She decided it was her turn to be Simon.
Selena: "Simon says grab your hair."
So we grabbed our hair.
Selena: "Simon says go really fast."
We're looking at her holding our hair, "Selena, what are we suppose to go real fast at?"
Selena: "Pulling your hair out!"
I just have to add one other one. The other night Selena could not stay out of anything. I turned around after she had been quiet for a bit and she drew a face on our white board. She informed me she had drew Papa. I thought a minute, and then asked where she got the dry erase pen. She pointed to a box, I opened it and asked her which pen she used, she showed me a permanent ink marker, so now we have Papa permanently watching over us while we do our schooling everyday. Later she informed me, "I ruined your white board, I am so sorry Mama!"
I am linking this up at Tiny Talk Tuesday hosted by Not before 7.