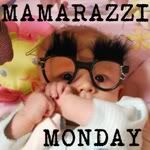 Last night Selena went in her room and came out with her two boxes of doll furniture. She dumped them out in the middle of the living room and began to play. She played for hours with all the little people that came with her doll houses. She made them interact with each other, talking to each other, and constantly was on the quest to find more of the little people. One has hair that can be combed, so of course all the other dolls just thought her hair looked beautiful, and Selena would have to take some time to pretend to style it so the others again would tell her how beautiful her hair looked.
Do you see her yellow scope from her Dr's kit? Well after an hour and a half or so of just playing with her little people, one story after another one conversation after another, she decided to see if her dolls would fit inside this instrument.
Now let me give you a good laugh. Papa was sitting watching all of this. He knew I had my camera but didn't realize the flash was off. Suddenly he looked at me and said, "Oh for goodness sake, get on with taking the picture, she has already done so many cute things and you've missed them all." Needless to say I had already taken about 15 pictures at this point. Light bulb moment, little does he realize I will be able to get a lot more pictures of him interacting with Selena without him even knowing!
Linking up at Mamarazzi Monday.